XMBG Series Corrugated Cable Tray
2020-04-29
Origin: Web
View: 2344
Brief introduction of XMBG Series Corrugated Cable Tray
XMBG Series Corrugated Cable Tray (referred to as "XMBG Cable Tray") has advantage of energy saving, light weight, high strength and corrosion resistance. As ideal replacement product, It's more economic and technical than traditional.
New technologies, new products-cast new standards for industry
 The innovation of XMBG cable tray is that it uses a three-dimensional structure instead of the traditional flat structure according to the principle of material mechanics, which greatly improves the mechanical strength of the cable tray , reduces the thickness of the steel plate and own weight, and saves resources.
The product complies with T/CECS31-2017 "Technical Specifications for Steel Cable cable tray Engineering", which specifies the requirements for the design and selection of cable trays. The national standard GB/T23639-2017 "Energy-saving and corrosion-resistant steel cable tray" compiled in 2017 was formally implemented in December 2017. With the implementation of design regulations and national standards, XMBG cable trays will create unlimited economic benefits for society.
XMBG Series Corrugated Cable Tray
Material saving and energy saving-creating benefits
One of the innovations of XMBG cable tray is to achieve energy saving through superior heat dissipation performance.The energy-saving principle of XMBG cable tray is through innovative structural design, using heat conduction and air heat exchange, to maximize the heat generated by the cable conductor in the cable tray  to be fully dissipated, thereby reducing the resistance value and loss of power lines and improving the utilization rate of electric energy is reached to achieve the effect of energy saving.
After testing by Shanghai Quality Supervision and Inspection Center of Power Distribution Equipment Products of National Quality and Technical Supervision Bureau, XMBG cable tray has a significant energy saving effect compared with traditional cable tray .Energy-saving cable tray have made outstanding contributions to users in reducing line losses and improving power utilization.As people pay more attention to the loss of cable lines and increase awareness of power saving, more users will benefit from the use of energy-saving cable trays.
XMBG Series Corrugated Cable Tray
Scientific Structure-light weight and high strength, saving resources
Large steel stadiums, exhibition centers, airports, and skyscrapers built with light steel structures are the highlights of modern engineering mechanics technology, adding beautiful scenery to the world.The energy-saving cable tray is composed of a concave-convex corrugated structure. On the premise of ensuring that the product quality and use functions are further improved, the strength is greatly improved, and the self-weight is reduced by more than 30%. Great convenience, especially for high-altitude installation. The product has been tested by Shanghai Provincial Power Distribution Equipment Product Quality Supervision and Inspection Center. Various technical indicators are better than ordinary cable tray products. Excellent performance and new technology make the value of the product exceed its price. Get the most benefits in your use.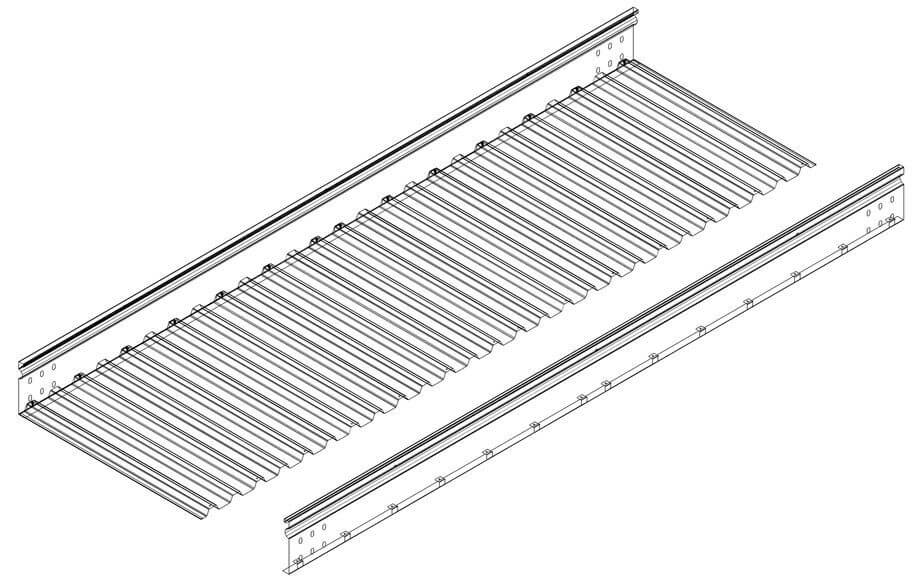 XMBG Series Corrugated Cable Tray
Corrosion and corrosion resistance-environmentally friendly, once and for all 
As traditional surface treatment processes such as electroplating, hot-dip zinc, and baking varnish have deficiencies and disadvantages in cable tray corrosion resistance, aesthetics, and environmental protection, the company uses color-coated steel plates (color steel plates for short), stainless steel plates, and thermosetting electrostatic powder coating It can greatly improve the anti-corrosion performance of the cable tray and achieve high-efficiency and long-term anti-corrosion effects.
XMBG Series Corrugated Cable Tray
Innovative design-add a beautiful landscape to your building 
XMBG energy-saving cable tray has a brand-new process and a new structure, giving it a refreshing feeling. Its shape and appearance have a distinct three-dimensional sense. After installation and use, it brings people an artistic look and feel. The structure of the whole product is reasonable and the technology is advanced, which fills the gap of similar products at home and abroad.
XMBG Series Corrugated Cable Tray